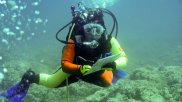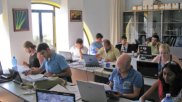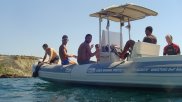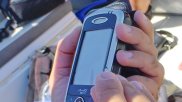 Introduction to ArcGIS 10
This course covers fundamental GIS concepts as well as how to query a GIS database, manipulate tabular data, edit spatial and attribute data, and present data clearly and efficiently using maps and charts. Participants learn how to use ArcMap™, ArcCatalog™, and ArcToolbox™ and explore how these applications work together to provide a complete GIS software solution. Click here to download the detailed program.
GIS and Remote Sensing of the Marine Environment
This course covers fundamental Remote Sensing concepts and how to use this technology for marine resources mapping. It gives and overview of image analysis and classification methods and an in depth practical case study of marine habitat mapping by mean of remote sensing images visual interpretation. Click here to download the detailed program.
PADI Diving Courses
These courses are your ticket to a lifetime of intense adventure with PADI, the dive company that sets the standards in the global diving community. You can start discovering this world with the Open Water Diver course or improve your diving knowledge and skills with the Advanced Open Water Diver course or the Peak Performance Buoyancy specialty.
Marine Fauna identification and data collection on the field
Students will learn how to identify marine fauna and flora, how to collect scientific data regarding their distribution and how to use GIS handheld tools and GPS units. Students will also collect habitat data for remote sensing image interpretation ground truthing and accuracy assessment. Data will be collected while on the field, diving and snorkelling. Visit our fauna and flora picture gallery!
PADI Project AWARE specialty courses
Project Aware is PADI's commitment to emphasizing the diver's role in preserving the aquatic realm. Dive GIS participants will have the chance to attend the 2 PADI Aware specialty courses " Project AWARE " and "Fish Identification" . The aim of these courses is to provide divers knowledge about the marine ecosystem and about the measures they can apply to help protect it. Current environmental issues and the status of endangered underwater habitats are also explored.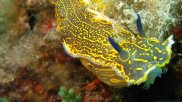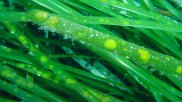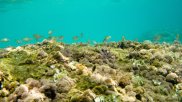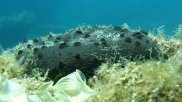 REVIEWS
Read what participants say about the course!

Montse, GIS Manager, Mexico
Why did you enrol in this course?
I work with GIS focused towards the conservation of marine protected areas. It is important for my work to learn more about the applications of GIS to marine environments. Many people in my department had looked for courses on this subject for a long time and had never found anything. Then we learned about Dive GIS we realized it was exactly the kind of course we were looking for. We considered it had the exact combination of information that we needed: marine applications of GIS, field work, and improvement of scuba skills.
Do you think it was useful to attend it?
Very much so. By moving to the next level of my PADI certification, I feel more confident when scuba diving (for work or for fun). The combination of the PADI certification with field work gave me the opportunity to test the new skills I was learning. At the same time, getting to know ArcGIS 9.2 was very useful. Each new version of ArcGIS has many new things, and having a hand on course on it was the best way of making sure that I use version 9.2 to its fullest possibilities. Learning different concepts of remote sensing focused on marine environments was very interesting and will be very useful for my work.
What did you learn?
I learned a lot of new scuba skills as well as gaining more confidence when diving. I learned how to use very many of the applications available in ArcGIS 9.2, along with many tips and tricks that significantly reduce the time needed to carry out several procedures. I learned the basic principles of remote sensing, the different kind of sensors available, habitat suitability models, and much much more. I also learned several words in Italian!
What did you like the most and why?
There are several things that I liked most about the course. The instructors were very good and were clearly very proficient with these subjects. The location and the dive shop were amazing. But most of all I think that being able to do all the exercises with real-world data that we all collected, as opposed to theoretical exercises was great. Also, being able to get to know and interact with people from everywhere in the world that work with similar things was a great. All in all, it was a very useful and wonderful experience.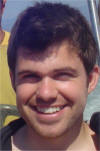 Pat, GIS Engineer, United Kingdom
Why did you enrol in this course?
I could find no other course which offers such a practical and in depth application for GIS. With the 'Dive GIS' course I gained valuable GIS training in the field and how the technology can be applied within Marine Conservation objectives in mind. This combined with expert Scuba diving tuition were exactly what I was looking for from an applied GIS course.
Do you think it was useful to attend it?
Not only did I learn a great deal about how GIS can be applied in a marine conservation field but I also learnt why it is important to use GIS for such projects and the effectiveness of GIS in managing such projects. I took away so much from this course that can now be used in my daily work.
What did you learn?
I learnt so much about Remote sensing techniques for marine surveys and how aerial photography can be manipulated to map the sea bed. Not only that but I also learnt a great deal about marine habitats and fish identification techniques.
What did you like the most and why?
The diversity of what the course had to offer is what I really enjoyed about the course. From Scuba diving to fish and habitat identification to the class lessons where we brought it all together and really learnt how GIS is used to manage the marina. There was a really good mix of theory and practical application everything that was done had a purpose in fulfilling the project objectives.

"This course could be described as the perfect experience for divers who are into GIS (or also non divers, who will fall for it by the end of the course!). Being able to do GIS and learn diving skills is GREAT! Thank you for taking the time to design the course, and organizing everything to achieve such levels of perfection!!!"
Fabio, Venezuela

"I really enjoyed the course. I was comparatively new to diving and was taken through the PADI course by an excellent instructor. Conversely I am experienced in GIS, but was given scope by the GIS lecturer to explore other datasets and advanced techniques. I found the Remote Sensing aspects of the course stimulating, and I look forward to integrating material on Mappomondo GIS' activities into my own lecturing courses at University. The hotel and owners were exceptional, I really couldn't commend them enough. Le Castella (Crotone) is a beautiful part of Italy and offers superb diving opportunities. This combined with the wealth of biodiversity interest in this region of the Mediterranean makes it a superb location."
Niall, United Kingdom

"I have learned a lot on this course and the people who put this all together take care of everything in order to make this a stress free and enjoyable experience. The entire crew of MappamondoGIS were extremely friendly and highly skilled with what they do. I feel so comfortable as a diver now thanks to my instructor :) Everyone has just been amazing and made this experience a trip of a lifetime."
Stephanie, USA

"The course has been beautiful and in my opinion of high quality. Obviously the time hasn't a lot but I have been surprised for the management of the course and for the hospitality of the people. At the end I can say that the course has overpassed every expectation that I have had at the beginning. I would be so happy to do another dive course here the next year."
Lorenzo, Italy

"The course offers a unique blend of marine GIS, field work and scuba learning. It is very useful for people interested in marine conservation and management of MPAs. Working with people from all over the world is a great opportunity for networking. Congratulations for developing an original, useful, interesting and pleasant course!"
Dragos, Romania

"I was very pleased with this course, and it was an excellent experience. Thank you very much!! The course took all my money savings, but I am so happy I spent my money in such a good way :)"
Laura, Germany

"The contents of the course were very satisfactory for my study. I always looked for a course where I can improve the use of GIS applied to marine environment like DIVE-GIS. The course was very interesting. I think it was perfect for someone who wants to improve his knowledge of GIS applied to marine habitat like me. Moreover it offers to you the possibility to take a dive certification diving in wonderful place with instructors very careful and patient and to improve your English. The number of the participants was right for this kind of course."
Danilo, Italy

"The Dive GIS course is more than just a training course with a unique combination of content. Besides being a wonderful learning experience, the course was made more special by the efforts, warmth and hospitality extended by our hosts and sponsors. As a marine researcher, the course gave me a great opportunity to interact with people from different parts of the world who are involved with wildlife research and also meet people from very different professional backgrounds who all share a common love for the sea and of course also a passion for scuba diving."
Sruthi, India

"I have learned a lot during this course and I look forward to apply this knowledge. It was a pleasure for me to meet our really good instructors in a so unique course like the Dive GIS. I also would like to say thanks for all the participants making this course unforgettable."
David, Hungary

The hospitality was wonderful. The people were very friendly and helpful in the hotel, at the dive center and at the courses as well. They helped us a lot to have a great time at Dive GIS Course in Le Castella. Thank you for organizing this kind of course, it was a pleasure to participate to this course. Congratulation for the organizers! :)
Anita, Hungary

"The contents were really interesting for me, I have learned a lot more on GIS and the georeferencing data part was all new for me. I got a lot of new ideas on how to use collected datas and discovered different interesting ArcGIS extensions and software for ecological elaborations. This course is very useful to learn more (or to introduce yourself) on GIS and remote sensing. The teachers are very good and the place is very pretty and enjoyable with very nice dives."
Cecilia, Italy

"Great and innovative course. It's been a sum of new and fun underwater adventures and interesting lessons to improve my ArcGIS and Remote Sensing knowledge mapping marine habitats. The instructors have been very competent and patient and I've known guys from all over the world! Many thanks to all of you for this wonderful experience!"
Nina, Norway

"The course is organised very well, everything is set up and worked without flaws. Diving in the morning and class in the afternoon is a good way of learning both the theory and practical aspects of marine mapping. Both class and diving lessons were well organised to suit all levels of expertise. I learnt a lot from this course about GIS as well as diving and marine habitats and species...I felt very welcome here, everyone was very kind and wanted to make sure I had everything I needed."
Pat, United Kingdom

"I enjoyed this course very much. It was very interesting to meet people who work with GIS at other places in the world. The marine habitat information was very interesting. The location and the dive shop are wonderful! The hotel had a perfect location, the room was nice, the food was nice, very friendly."
Montse, Mexico

"Very glad I came and congratulations on developing a much-needed product."
Tamsen, New Zealand

"Il corso mi ha soddisfatto, vi devo fare i COMPLIMENTI,soprattutto per la passione e per la pazienza."
Max, Italy

"Ho trovato il corso ben organizzato e sufficientemente sviluppato in tutti i suoi punti"
Frine, Italy

"The course is well designed for studying coastal natural resources conservation and management using combined approaches of remote sensing and GIS techniques."
Vijay, India

"Dive GIS was a wonderful experience a full immersion practical and theoretical. Very useful especially for my thesis project with aim to mapping and monitoring the flora in the Gulf of Naples. Le Castelle is very nice place, the marine protected area is a magic world to discover and full of surprise"
Alessio, Italy

"I really enojoyed taking part in this course and the area was the perfect setting. The course was both relaxed and informative and i have learned a lot of new skills. The diving element to the course was enjoyable, and was useful for learning how the theory we studied was produced in the field. Thanks for a great time!"
Gemma, Scotland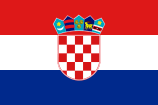 "It was a lot of fun, I got what I expected regarding new knowledge/skill, I met some interestig people, visited area I have never been before and I'm satisfied!"
Andrej, Croatia

"I really enjoyed this class. It's a great introduction for those who are new to GIS and/or new to scuba diving. All of the instructors were helpful, informative, and answered any and all questions we had. The location is beautiful and being able to look out our classroom window at a castle made the class even more exciting. I would recommend this program to anyone who wants to expand their knowledge of GIS/SCUBA and enjoys the outdoors. "
Michael, USA

"Taking this course in a Marine Protected Area make the course very attractive and gave us the perspective of the importance to use the technology for marine survey, implement conservation and managing strategies."
Deborah, Puerto Rico

"I thoroughly enjoyed this class and learned a lot in only 10 days. I would recommend this course to others seeking a unique combination of diving and GIS experience. Thank you for teaching this class and taking the time necessary to put it together. "
Joshua, USA

"It was a great course, a wonderful place to stay and dive, and I was happy to see the connection between what I have been studying with GIS and applying it to real world data collection and analysis! "
Morgan, USA

"I really enjoyed my whole experience and I am so glad that Mappamondo GIS created this opportunity for me. "
Margaret, USA

"DiveGIS is a great introduction to both scuba diving and the intergration of the marine environment into ArcGIS. The teachers are extremely knowledgeable, the area is beautiful for diving and I don't think you can find a similar program in the world that combines the fun of diving and the education of marine GIS in such a short period of time. I would recommend it for anyone looking to learn more about marine GIS. "
William, USA

"I think the course is an excellent idea and I would recommend it to anyone interested in the area."
Sarah, UK

"It was a wonderful experience to go and collect the data in the field and to use it in the GIS course."
Jens, Belgium

"Pure love for the field of Marine research and devotion to sciences in general by the organisers of the course lead to an excellently organised and delivered course. A highly recommended course to anyone interested in the fields of diving, GIS and remote sensing from amateurs to professionals."
Louis, Cyprus